Karwa Chauth is a one day celebration and the most awaited occasion for Hindu women of North India. 'Karva' means small earthen pot of water and 'Chauth' denotes the fourth day of the dark-fortnight. As the name suggests, the festival falls on the 4 days after full moon(purnima) in the month of Kartika(October or November), this year on 4th November 2020. For all the newly wed couples of 2020, I will share the top 10 things to do in Karwa Chauth.
India is known for its richness in culture, spiritual beliefs, sacrifices and religious festivities. Women are a perfect epitome of strength, perseverance and fortitude. And when it comes to the good health and longevity of their husband, nothing can hold their heart back. Karva Chauth is such an event when married women do not eat or drink from sunrise to moonrise. This day is lived up particularly in North Indian states of Delhi, Haryana, Punjab, Rajasthan, Jammu and Kashmir, Uttar Pradesh, Madhya Pradesh and Himachal Pradesh.
Different beliefs coexisted in terms of significance of Karwa chauth. Earlier men would have to leave their wives and children at home to go far off to the war or military campaigns. And their wives used to devote hours in praying for their safe return. The festival also relates to the wheat-sowing time and people wish for a good harvest in these regions when the Rabi crop cycle begins. Wheat is usually stored in huge earthen pots called Karvas, so is the symbolic part of the day. 
Make your Karwa chauth perfectly special by simply adding Top 10 Things to Do in Karwa Chauth 2020 in your checklist.
1. Go out for shopping
I am head over heels in love with shopping. And when it's the festive season out there, everyone of us look excited and cheerful. I think if we have an organized scheme of different purchase items, it saves the hours and makes shopping hassle free. This time, I  will order most of the things from the most trusted online stores like Myntra and Amazon. Obviously, I would also explore the local shops as well but with a safe distance and nose-mouth caps on. So, why don't you check the shopping list for Karwa chauth 2020. Here it goes.
Shopping list for Karva
Karvas (spherical clay pots)

Bangles

Ribbons or rubber bands

Bindi

Make- up mirror(small Hand mirror)

Eye liner or Kajal

Lipstick and nail paint

Handkerchiefs 

Sweets or candies, dry fruits

Henna cone
Pooja list
Decorated pooja thali

Dia or lamp

Ghee

Dhoop or agarbatti/ Incense sticks

Matchbox

Sindhoor ( red color)

10-20 rice grains

Flower petals

Red cloth( laal chunni)

Lota(

round water pot)

Large round sieve
Shopping for me( adornments/ shringar)
Traditional clothing( lehenga, saree or suit)

Jewelry

Make- up or cosmetics

Henna cone/Mehndi

Bangles
If you want, you can also buy karwa chauth special surprise gifts or hampers from Archies for your husband and family( parents, in- laws and siblings).
I would suggest you to complete shopping 4-5 days before the fasting day. Once the shopping is done, you can relax and arrange for the other little things.
2. Mehndi Designs
A night before Karwa chauth, you can apply Henna on your hands and feet. Or you can visit a salon to get your hands designed beautifully. Parlors are generally too occupied these days, so you have to hurry a little to schedule your visit. You can browse as many amazing mehndi designs on Pinterest. If you are applying by yourself then find out the most effective tips on dark mehndi.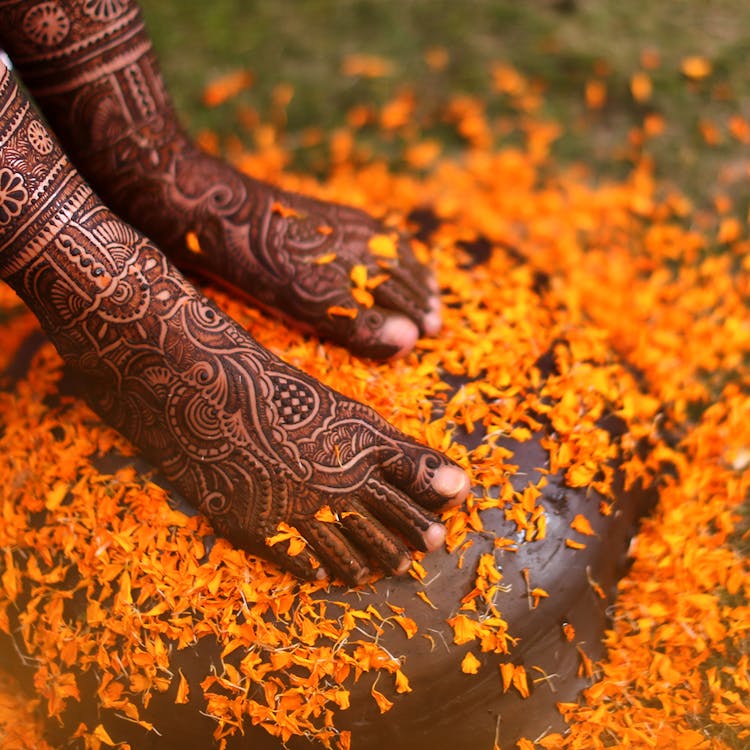 3. Decorations
You can paint the karvas with colors or stones. Also decorate the pooja thali and the sieve if you want to or you can also buy a decorated one from the stores.
4. Morning Meals or Pre- dawn meals
The women wake up early before the sunrise to eat something. And that something could be:
Soot feni with milk in sugar( in Uttar Pradesh)- Helps to stay well without water

Sargi (in Punjab)/ fenia( sometimes prepared by mother in law)
You can also have rice kheer, jeera aloo, fruits, dry fruits etc. And drink plenty of water.
5. Keep yourself busy
Well, every woman relaxes and pampers herself on this auspicious day, I believe to distract myself by preparing delicious meals for dinner and inviting friends for potluck at home. Since Corona cases are increasing actively this year( no more than 3 people from other households are allowed), I will just call a friend couple who live in the vicinity. I do not eat or drink anything the whole day. You can prefer eating fruits or drinking tea if your health does not allow you to stay famished. 
6. Dress yourself pretty
Paint your nails colorful, wear your jewelry and drape your saree, lehenga, gown or any of your special dress. Apply make-up and style your hair that suits the clothing. Also tell your husband to get ready to compliment you by wearing a traditional kurta pajama.
7. Shoot a Picture 
Before you get swarmed with work and greeting friends, do not miss capturing the fresh and ever cherishing moments in your phone or a camera. Do make your own album of karwa chauth.
8. Listening Story of Karva Chauth
Last year, there were so many ladies sitting in a circle, with pooja thalis in hands and ears on the Karwa chauth story casted on Television( if you have a book, anyone among the group can narrate the story interestingly). This year just two of us will pass our thalis( feris that contain lightened dia or lamp, sindoor, aroma sticks and rice grain) to each other and sing the Karva chauth pooja song while performing the feris seven times. For the first six feris the lyrics are as follows:
Veero kudiye Karvara, Sarv suhagan Karvara, Aye katti naya teri naa, Kumbh chrakhra feri naa, Aar pair payeen naa, Ruthda maniyen naa, Suthra jagayeen naa, Ve veero kuriye Karvara, Ve sarv suhagan Karvara…
For the seventh feri, they sing
Veero kudiye Karvara, Sarv suhagan Karvara, Aye katti naya teri nee, Kumbh chrakhra feri bhee, Aar pair payeen bhee, Ruthda maniyen bhee, Suthra jagayeen bhee, Ve veero kuriye Karvara, Ve sarv suhagan Karvara…
9. Waiting for the moon to rise
The moment we will see the moon rising beyond the clouds, we run out to seek the blessings by offering water( arka) to the moon and looking at it through the sieve or cloth of a dupatta. And finally the husband offers the first sip of water to us, so that we could break the fast and have proper meals of the day.
10. Setting up the dining table
What an alluring view it is! The dining table is packed with so many dishes and sweets and I feel like jumping all over it at once. We altogether sit and relish the dinner after the fast. Finally we shared the gifts with our loved ones( I also received a grand surprise from my husband too, may you be the lucky one too). The Karwa chauth day is a pious celebration done by fasting to realize inner strength and valor. So, do it with extreme faith and love. A million magic wishes of Karwa chauth to everyone. Stay safe and keep celebrating!